Avaya Collaboratory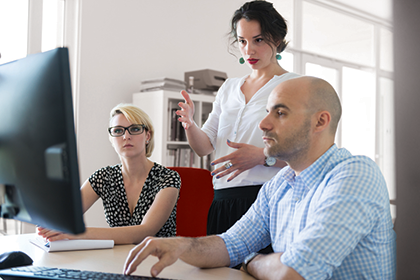 Tap into Powerful Communications Capabilities, Create Amazing Apps
Get Started Now
Avaya Collaboratory provides secure access to the Avaya Breeze Development Platform in the cloud. No on-premises software components required. This turnkey development sandbox allows you to turn your ideas into reality quickly and easily—with zero overhead, and minimal effort. Create and explore apps for desktop, mobile, web, telephony, email, SMS, or video engagement utilizing the power of Avaya Breeze and the Avaya Breeze Client SDK.
Choose from 3 different Collaboratory environments to meet your particular needs:
Avaya Breeze Aura Collaboratory
Your own fully-configured and ready-to-go execution environment hosted by Avaya where you can create apps in Java or use the Engagement Designer, a sophisticated drag and drop visual design tool.
$999 for a 3 month term
The execution environment contains:

Avaya Breeze
Latest Avaya Snap-in connectors for email, SMS text messaging, presence, Avaya Scopia Conferencing, call controls, and more.
Latest Snap-in applications and developer code modules including Context Store, Work Assignment, Real-Time Speech Search, and Mobile Video
Avaya Mobile Video Gateway and Client SDK
Latest Avaya Aura® Platform software including Session Manager, System Manager, Communication Manager, Messaging, Application Enablement Services, and Presence Services
Avaya Communicator and Avaya Scopia® enterprise endpoints
Avaya Media Server
Avaya Aura Call Center Elite including video enabled Avaya one-X Agent
Avaya Breeze CPaaS Collaboratory
The Breeze CPaaS Collaboratory is designed to deploy Breeze and System Manager into a customer's own AWS account in virtual machines that they control and manage.
Zang provides the telephony infrastructure instead of Aura
Free for a 3 month term (customer AWS account required)
The execution environment contains:

1 Breeze Instance, SMGR
Engagement Designer Base license
Turnkey lab creation
1 US DID, powered by Zang
Avaya Breeze Client SDK Collaboratory
The Avaya Breeze Client SDK Collaboratory is an Avaya hosted shared environment that allows developers to integrate chat, presence, voice/video calling and contacts services into new or existing Windows, macOS, iOS, Android or Web (JavaScript) applications.
Free access for 3 months
10 SIP accounts
The shared environment facilitates open communication with other developers in the lab
The execution environment contains:

Avaya Aura® components

System Manager
Session Manager
Communication Manager
Presence Services
Multimedia Messaging
Web Gateway
Media Server
Device Service
Apply now for one of these Avaya cloud developer sandboxes.